USED OAK BARRELS
Description
They are available in different sizes and used time and clients can purchase as per their specific requirements or budgets. Made of excellent quality oak wood, these barrels are extensively used in automobile, marine, water treatment plants, Wine, and many other industries for storage and transportation of liquid materials. Our valued patrons can avail these Used Oak Barrels from us in bulk at discounted rates.
Key Specifications/ Special Features:
Beautiful color and excellent quality. It can be used as a household barrel for Beer, Whiskey, or as a gift for friends and relatives. The high-end atmosphere is high-end, and I believe you will love it.
Made of high-quality oak, the texture is clear and beautiful, it is easy to increase the aroma of the wine, and it is not easy to leak.
Made of 304 stainless steel fittings, without a plasticizer, the wine will not come into contact with plastic for a long time.
After the baking process, the wine is placed in the barrel to contact with the oak, and the oak essence is absorbed so that the red wine can fully retain the natural taste and make the wine more aroma.
304# stainless steel automatic exhaust gas filter barrel plug, not afraid of leakage, adjust the pressure inside the barrel to protect the taste of the wine.
Orient Timber can make 0.75L/1.0L/1.5L/2.0L/3.0L/4.0/5.0L/10.0L with Oak Wood as per your requests.
Processing and customization: yes
Purpose: beer barrel
Styling: others
Height: other (mm)
Capacity: other (ml)
Main diameter: other (mm)
Bearing: others (kg)
Weight: others (kg)
Color: customized as shown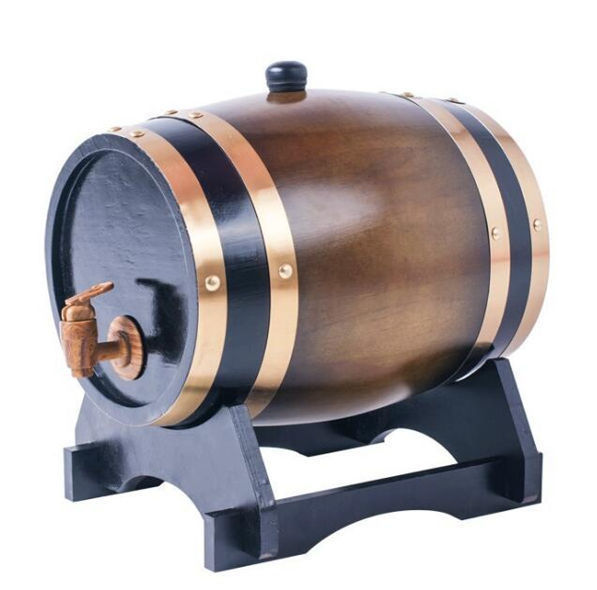 Processing and customization: yes
Purpose: beer barrel
Styling: others
Height: other (mm)
Capacity: other (ml)
Main diameter: other (mm)
Bearing: others (kg)
Weight: others (kg)
Color: customized as shown